Including sounds from a landscape in musical productions has become a method sometimes used by bands and artists in Greenland, for establishing a sense of place in their musical production. An early example of this is the song "Qimusseq" ('Dog sledge'), by Inneruulat ('Phosphorescence'), in their album "Inneruulatut naajararpugut" ('We are growing like Dandelions') (1981) (cf. fig. 9).[i]
The band Inneruulat is from Aasiaat in northern Greenland, and it is the sounds of a north Greenlandic landscape that reach the listener in the song's intro. The sounds of creaking ice and howling sled dogs fill the soundscape. Then the band fades in with an energetic song that praises the dog sledge, not only as means of transportation, but also for the benefit of the soul of Greenlanders and the future of the Greenlandic nation. The lyrics thus indicate the nationalist, socialist and anti-imperialistic themes that dominate in the lyrics featured on the album. These themes were strongly represented in the early years of Greenlandic rock music, in music by other bands like Sume and Piitsukkut ('The poor ones').
 
Fig. 9: "Qimusseq" ('Dog Sledge') by Inneruulat (1981):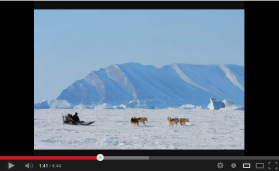 [i] In Greenlandic literature in this period, Dandelions are used as symbol of the wild, indomitable and indigenous as opposed to that which is cold, domesticated and imported (ex. Olsen 1980: 84).