In Greenland, as in some other places, women primarily engage in the production of popular music as singers (cf. Connell and Gibson 2003: 123). However, up until the 1990s, female singers in Greenlandic pop and rock music would usually only record and perform together with male singers. This gradually changed when the group Mariina (the name is more or less synonymous with the group's lead singer Marina Schmidt) released their first album named "Utaqqivunga" ('I wait') (1992). Though this album also featured the band's primary song writer Hans Lange on vocals, Marina's voice became the dominating sound on the three albums the band released before Hans Lange died in a boating accident in 2007.
Marina served as a model for the younger singer Nina Kreutzmann Jørgensen (Interview with Nina Kreutzmann Jørgensen and Malik Olsen, 8 June 2009), who is from the same generation as a list of other popular female singers, like Kimmernaq Kjeldsen, Tupaarnaq Mathiassen and Julie Berthelsen. These four singers all gained popularity from the 1990s and into the 2000s, and typically perform as divas in the sense that they are primarily valued for their vocal skills, while male singers usually take the role of auteurs that are songwriters and instrumentalists as well as singers (cf. Regev 2013: 35).
Fig. 11: Nina Kreutzmann Jørgensen performing "Silarsuaq Takuiuk" ('Have you seen the world?') (2008), originally written by Siiva Fleischer and performed by Zikaza (1985).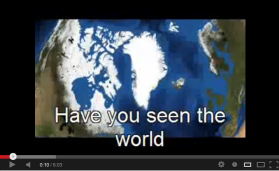 This role of women in Greenlandic popular music was challenged when in 2009 Nive Nielsen played her first concert in Greenland with her collective of international musicians called The Deer Children. Nive Nielsen writes her own material and when performing, she both sings and plays the guitar or her signature red guitalele (cf. fig. 12). Her voice is meek and she seems almost shy on stage, which is in direct contrast to the powerful and self-confident performance of the Greenlandic divas. Though Nive Nielsen has not gained the same popularity in Greenland as the divas, she has managed to gain unprecedented international attention as an indie artist. She has carefully branded herself through narratives of Greenlandic identity, connecting her songs and their English lyrics to Greenland (Otte 2013: 139). Cohen has written that connecting an artist with a sense of place can add an era of realness, roots and authenticity (Cohen 1994: 118), and even though the connection between the music of Nive Nielsen and Greenland might not be immediately audible in the bulk of her songs (which feature English lyrics), such a strategy has proven quite successful in the case of Nive Nielsen, though of course in combination with musical productions highly valued by her audience.
Fig 12: Nive Nielsen performing "Room" (2011).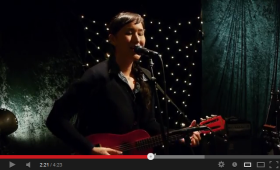 [i] Several of the female Greenlandic singers have performed together as The Greenlandic Divas. The label 'diva' does not seem to carry particularly negative connotations in Greenland.